Mission
To foster a nurturing environment that provides women the opportunity to achieve their potential through lifelong commitment to intellectual growth, individual worth and service to humanity.
Vision
To be a premiere women's organization with a winning spirit through: seeking cultural, demographic and economic diversity, the development of chapter, community and interfraternal leaders, providing programming which addresses issues relevant to women and society, the strengthening of resources, a focus on being member-driven, and management of the organization through volunteerism.
Gamma Phi Beta's Coat of Arms: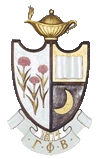 The Coat of Arms is held high in the bonds of Gamma Phi Beta Sisterhood
Gamma Phi Beta's Seal:


The seal that is stamped into your Membership Certificate when you become a sister of Gamma Phi Beta
Gamma Phi Beta's Crescent:


This is our International symbol for Gamma Phi Beta
Gamma Phi Beta's Open Motto:


This is what our four founder's [Frances E. Haven, Mary A. Bingham, E. Adeline Curtis, and Helen M. Dodge] founded Gamma Phi Beta on.
Gamma Phi Beta's International Colors:


Brown and Mode [mode is light brown]
Gamma Phi Beta's Local Colors:


Pink and White
Gamma Phi Beta's Flower:


The carnation became the official flower of Gamma Phi Beta during the November 6-8, 1888 convention. In the 1950's, the PINK carnation was officially named our sorority flower.
Gamma Phi Beta's Badge:


The badge is the symbol of an initiated member and may be worn only after initiation. It was voted most beautiful badge out of all the NPC sororities by Tiffany & Co
Gamma Phi Beta's Jewel:


The Pearl
Gamma Phi Beta's Local Mascot: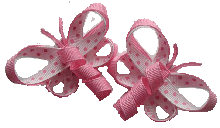 The Butterfly
Creed:
Love, Labor, Learning, and Loyalty
"Gamma Phi Beta from the past has given A heritage that makes a fuller life. Gamma Phi Beta in the present bids Us strive for lasting values and ideals. Gamma Phi Beta in the days to come Will prove that fundamentals can endure. Therefore we shall embody in our lives The truths that make for finer womanhood. Once more we pledge a Loyalty that means Adherence to all true and noble things; A Learning that enriches all our days With magic gold that is forever ours; A Labor that each hour will glorify The simple, common task, the common cause; A Love that will be strong and great enough To encompass and to pity all the world."